Private Messaging add-on for miniBB
US $5
Buy Now / Add to Cart
Automated payments by Visa/MasterCard
provided by:


Bitcoins and PayPal are accepted. Contact us, if you'd like to pay for this add-on using one of these methods.
Big community can't leave without its members, which are always upset to contact other forum participants privately. This miniBB extension allows to build a private communication dialog between two certain members, the process also known as private mail or private messaging (PM). Well, probably each of Internet user nowadays know, what it means on social websites, just to compose a letter to the person you find interesting. The add-on ads a social meaning to your forums.
Besides the standard features which are included in almost every script like this, it also provides unique set of exciting options and procedures which you never meet somewhere else. PM function is available only to registered forum members.
How It Works
In your forums, there will be a special PM icon like this:

, it usually appears near each member's username in the messages thread, or under any user's public profile page. Clicking that icon brings a new private message form, where you could type your private comment and send it to the chosen member. In PM folder, all messages are split by Inbox (Incoming), Sent and "Reminding" folders, where "Reminding" means a special folder with the "messages to yourself", and that way may be used to save some forum notes, which you should not forget about. Each messages' folder provides simple and easy-to-navigate interface, where you may quickly recognize unread messages, delete messages, mark them as read/unread, or mark them as important, which puts a special flag near each checked message. Receiving a new message, you will be notified by a special indicating note in the forums menu, so you can check and respond immediately. Reading any message, you can reply instantly, the answering form is provided on the same page and consists of the standard forum form, which your members already may be used to.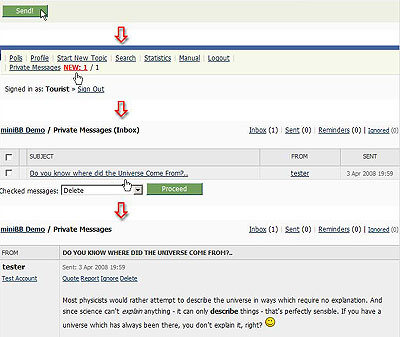 Screenshot of the Private Contact process - click to view in full size.
We have designed it to be much simpler in usage, than any public webmail service! ;-)
Astonishing Features
The core setting of this plugin is that it's designed to work both with mySQL OR flat-files. When choosing mySQL (as it's suggested by default), the server may lose a bit in performance, however it brings more comfortable backup of the forums in whole. Choosing files module allows to keep a a huge part of the resources on the very active server, if there are hundreds of visitors per second. Depending on your forums load, you choose whatever fits best your goal.
Plugin's users-level configuration provides the following settings:
Limit of the Incoming messages per each user, with the possible exception of this rule for admin and moderators; when it's exceeded, a user won't be allowed to get the new messages from others. That way your users should care about the space on your hosting. Depending on resources, this limit still may have a large value!
Limit of the Sent messages; when it's exceeded, the earliest messages will be deleted automatically;
Limit of Reminders;
Anti-spam time - the time period when somebody could only send one message. Prevents from flood lovers.
Each user has an option to:
hot! Re-send a message if it still was not read (or edit a reminder that way) - you would rather meet it anywhere;
Put certain members in his own black list, that way disallowing them from sending him a PM;
Report received message to administration, with the original message text as proof of concept;
Optionally subscribe to receiving an email notification when the new PM arrives.
With this add-on it is also possible to install some extra forum-based options like:
Welcome message - new member will receive and notice his first PM right after successful registration;
Alerting forum message - as soon as a member has been posted specified number of useful forum messages, s/he's able to report other forum messages to administration by a click, that way helping in moderating forums content.
Mass-mailing - forums admin is able to send one private message to all in seconds. Tested on hundred thousands of users and still works fast.
PM plugin automatically inherits miniBB functions provided by the other add-ons like Smilies, Preview, Polls, File Bank. That means, a private message could have the same type content, as if you would post it on public forums.
Read and ask more about the features of this plugin or its working principles, in our related forums topic.
Live Demo
Watch it before you buy! This add-on is ready to blow your mind on our miniBB Demo Forums. Use temporary login details provided on the first page for two different accounts to check it out. For example, login as a test user, locate the "Private Messages" link at the top forums menu. Enter this section and compose the message to the forums admin, entering "1" in the "Send message to" field. Logout, then sign in again as Admin. You will notice the new message's indicator at the forums top menu, and entering the PM section, will see a way to read the message.
Get it NOW!
After buying this add-on, you will get a Lifetime license with the possibility to upgrade this add-on for 10 times in the future, if miniBB.com releases the newest versions or patches. It doesn't mean only 10 downloads: you may skip a few releases, and download only something seems to be final. This is a unique offer, and it actually means, you pay once, but get something until it lasts. There are no hidden fees, no monthly fees, no annual fees. You get the editable open source code and are allowed to modify any part of it. However you are not allowed to distribute your copy of the add-on in any way, except using it on your own forums or your own website. Avoiding distribution is in your very own interests; read more why.
Click the link below and get this add-on!
Private Messaging add-on for miniBB - BUY NOW! (US $5)
The sum of the order you see on the screen, is final. No hidden fees or charges will applied to your payment. We cover the transaction fees.
After clicking the link above, Private Messaging add-on for miniBB will be automatically added to your Shopping Cart. If you'd like to continue shopping, purchasing another miniBB add-on or License, close the window and get to the page of the product you'd like to buy.
In advance, we thank for your support! Each order helps the basic version of miniBB® staying free.
Please study all Terms, Conditions and Descriptions below before completing a purchase.
Order Contract
Here, you will buy from 2Checkout.com. 2Checkout Inc. is an authorized retailer of goods and services provided by miniBB.com.
Alternative payment methods are available, contact us privately for more information.
Before you start, study the Delivery Policy of our products (Downloadable Goods).
After clicking the "Buy Now" link above, you'll be redirected to 2checkout.com page.
You'll be asked to enter your Personal (Billing) and Card details. Only Visa and MasterCard are accepted. Choose your currency at the top part of the order page to save on bank conversions.
After finishing the order, you should be automatically forwarded back to miniBB.com, this step completes the order.
Each order is passing verification process, which usually takes couple of minutes, but for some rare cases could take up to 2 hours. Within this period you certainly should receive the link to your Customer's Download area. The letter would be sent on the email address you provide with the order. Orders are processed automatically.
If you didn't get your order information within 24 hours, please contact us!
Our Privacy Policy in whole relates to our retailer's Privacy Policy. We take your privacy seriously and will take all measures to protect your personal information. We will not sell or redistribute your information to anyone. Important: we do not have access to your banking information. All your data is securely processed and stored on 2Checkout. We only collect information necessary for your purchase, like email address, transaction IP, name and surname. Your information is used only to verify your purchase, provide access to Premium Downloads, and give an overview of all orders you've made with miniBB.
Our Refund Policy in whole relates to our retailer's Refund Policy, and it is possible to issue a refund if you are eligible to clarify that your purchase was done by mistake or occasionally; in that case please contact us, or 2Checkout support immediately. We are giving 100% warranty, that our software works as proposed, if installed properly and plugged-in with the latest supported version of miniBB; and the package files do not contain trojans, spyware or viruses.
After we completed the sale granting the access to the protected downloads area, we keep all rights to not issue a refund. That's why we appreciate any of your questions, suggestions and comments before you buy. If there is something specific about your order we should know about, please do not hesitate to contact us first. You can fully test online anything you buy and request additional information from us for free.
If you ignore our statements, program descriptions, consultation service, the working principles of the software you ordered, or if you buy without knowing what your order is about, it is not the subject to refund the order.
An automated system is used for completing the orders. That's why, in some rare cases, your email server may deny automatically-sent message. If you have made a successful purchase, but didn't receive the information about your order within 24 hours, at first check your bulk or spam folders. If the email is not moved there - contact us privately, providing your order number. Order information will be re-verified by us and sent to you manually.